News
Category: Web
150 points
Solved by the JCTF Team
Description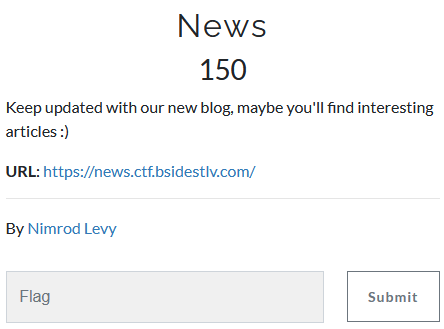 Solution
We visit the attached website, only to find a standard news portal with many articles. They have "Politics", "Sports", "Art", "Real Estate" - but where is the flag?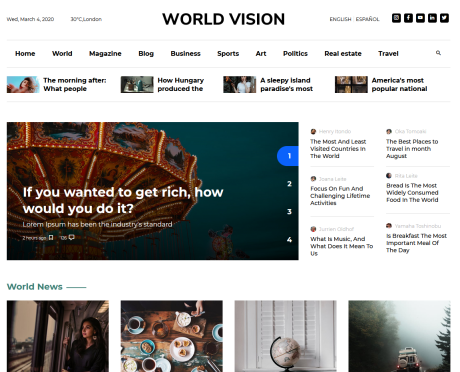 Nothing is out of the ordinary in the site. No dynamic forms, no robots.txt, nothing in the source code.
Eventually, we go back to the description: "Keep updated with our new blog" it says. How can we do that?
Usually such sites provide an RSS feed under /rss or /feed (with and without an .xml extension). Trying the different possibilities, we finally find:
┌──(user@kali)-[/media/sf_CTFs/bsides/News]
└─$ curl -s https://news.ctf.bsidestlv.com/rss.xml
<?xml version="1.0" encoding="UTF-8"?><rss xmlns:dc="http://purl.org/dc/elements/1.1/" xmlns:content="http://purl.org/rss/1.0/modules/content/" xmlns:atom="http://www.w3.org/2005/Atom" version="2.0" xmlns:image="http://web.resource.org/rss/1.0/modules/image/">
    <channel>
        <title><![CDATA[News RSS Feed]]></title>
        <description><![CDATA[Best news site in the world!]]></description>
        <link>https://news.ctf.bsidestlv.com/rss.xml</link>
        <generator>RSS for Node</generator>
        <lastBuildDate>Fri, 23 Jul 2021 06:01:36 GMT</lastBuildDate>
        <atom:link href="https://news.ctf.bsidestlv.com/rss.xml" rel="self" type="application/rss+xml"/>
        <language><![CDATA[en]]></language>
        <ttl>60</ttl>
        <category><![CDATA[news]]></category>
        <item>
            <title><![CDATA[Main site]]></title>
            <description><![CDATA[Best news site in the world!]]></description>
            <link>https://news.ctf.bsidestlv.com/</link>
            <guid isPermaLink="true">https://news.ctf.bsidestlv.com/</guid>
            <category><![CDATA[News]]></category>
        </item>
        <item>
            <title><![CDATA[About Us]]></title>
            <description><![CDATA[Best news site in the world!]]></description>
            <link>https://news.ctf.bsidestlv.com/aboutus</link>
            <guid isPermaLink="true">https://news.ctf.bsidestlv.com/aboutus</guid>
            <category><![CDATA[News]]></category>
            <category><![CDATA[About us]]></category>
        </item>
        <item>
            <title><![CDATA[Art]]></title>
            <description><![CDATA[Best news site in the world!]]></description>
            <link>https://news.ctf.bsidestlv.com/art</link>
            <guid isPermaLink="true">https://news.ctf.bsidestlv.com/art</guid>
            <category><![CDATA[News]]></category>
            <category><![CDATA[Art]]></category>
        </item>
        <item>
            <title><![CDATA[Author]]></title>
            <description><![CDATA[Best news site in the world!]]></description>
            <link>https://news.ctf.bsidestlv.com/author</link>
            <guid isPermaLink="true">https://news.ctf.bsidestlv.com/author</guid>
            <category><![CDATA[News]]></category>
            <category><![CDATA[author]]></category>
        </item>
        <item>
            <title><![CDATA[Contact Us]]></title>
            <description><![CDATA[Best news site in the world!]]></description>
            <link>https://news.ctf.bsidestlv.com/contactus</link>
            <guid isPermaLink="true">https://news.ctf.bsidestlv.com/contactus</guid>
            <category><![CDATA[News]]></category>
            <category><![CDATA[Contact Us]]></category>
        </item>
        <item>
            <title><![CDATA[Fashion]]></title>
            <description><![CDATA[Best news site in the world!]]></description>
            <link>https://news.ctf.bsidestlv.com/fashion</link>
            <guid isPermaLink="true">https://news.ctf.bsidestlv.com/fashion</guid>
            <category><![CDATA[News]]></category>
            <category><![CDATA[Fashion]]></category>
        </item>
        <item>
            <title><![CDATA[News Post]]></title>
            <description><![CDATA[Best news site in the world!]]></description>
            <link>https://news.ctf.bsidestlv.com/news-post</link>
            <guid isPermaLink="true">https://news.ctf.bsidestlv.com/news-post</guid>
            <category><![CDATA[News]]></category>
            <category><![CDATA[Post]]></category>
        </item>
        <item>
            <title><![CDATA[Politics]]></title>
            <description><![CDATA[Best news site in the world!]]></description>
            <link>https://news.ctf.bsidestlv.com/politics</link>
            <guid isPermaLink="true">https://news.ctf.bsidestlv.com/politics</guid>
            <category><![CDATA[News]]></category>
            <category><![CDATA[Politics]]></category>
        </item>
        <item>
            <title><![CDATA[Real Estate]]></title>
            <description><![CDATA[Best news site in the world!]]></description>
            <link>https://news.ctf.bsidestlv.com/real-estate</link>
            <guid isPermaLink="true">https://news.ctf.bsidestlv.com/real-estate</guid>
            <category><![CDATA[News]]></category>
            <category><![CDATA[Real Estate]]></category>
        </item>
        <item>
            <title><![CDATA[Sports]]></title>
            <description><![CDATA[Best news site in the world!]]></description>
            <link>https://news.ctf.bsidestlv.com/sports</link>
            <guid isPermaLink="true">https://news.ctf.bsidestlv.com/sports</guid>
            <category><![CDATA[News]]></category>
            <category><![CDATA[Sports]]></category>
        </item>
        <item>
            <title><![CDATA[Flag]]></title>
            <description><![CDATA[Best news site in the world!]]></description>
            <link>https://news.ctf.bsidestlv.com/Im4Fl4gS3cr3t</link>
            <guid isPermaLink="true">https://news.ctf.bsidestlv.com/Im4Fl4gS3cr3t</guid>
            <category><![CDATA[News]]></category>
            <category><![CDATA[FLAG]]></category>
        </item>
        <item>
            <title><![CDATA[Travel]]></title>
            <description><![CDATA[Best news site in the world!]]></description>
            <link>https://news.ctf.bsidestlv.com/travel</link>
            <guid isPermaLink="true">https://news.ctf.bsidestlv.com/travel</guid>
            <category><![CDATA[News]]></category>
            <category><![CDATA[travel]]></category>
        </item>
        <item>
            <title><![CDATA[World]]></title>
            <description><![CDATA[Best news site in the world!]]></description>
            <link>https://news.ctf.bsidestlv.com/world</link>
            <guid isPermaLink="true">https://news.ctf.bsidestlv.com/world</guid>
            <category><![CDATA[News]]></category>
            <category><![CDATA[World]]></category>
        </item>
    </channel>
</rss>
Filtering just for the flag, we get:
┌──(user@kali)-[/media/sf_CTFs/bsides/News]
└─$ curl -s https://news.ctf.bsidestlv.com/rss.xml | grep -i flag -A 3
            <title><![CDATA[Flag]]></title>
            <description><![CDATA[Best news site in the world!]]></description>
            <link>https://news.ctf.bsidestlv.com/Im4Fl4gS3cr3t</link>
            <guid isPermaLink="true">https://news.ctf.bsidestlv.com/Im4Fl4gS3cr3t</guid>
--
            <category><![CDATA[FLAG]]></category>
        </item>
        <item>
            <title><![CDATA[Travel]]></title>
We visit this URL and get the flag:
┌──(user@kali)-[/media/sf_CTFs/bsides/News]
└─$ curl https://news.ctf.bsidestlv.com/Im4Fl4gS3cr3t
BSidesTLV2021{D0ntSt0r3S3ns1t1v3F1l3s1NR55!}